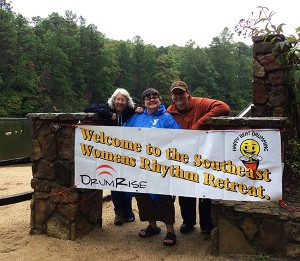 As a lifelong student, Amy loves to learn from the best!  Masters (of any craft) inspire! Amy is truly fortunate that some of her teachers and colleagues are exactly that – Masters!   She is frequently inspired to travel far in pursuit of her own obsession studies.  But realizes that not everyone can. And living in Atlanta, the biggest hub in the southeast and a natural stop on any internationally touring One of the beautiful things about being involved in several distinct modes of group-rhythm work is that DrumRise has become connected with musicians and rhythm educators from all over the country and the world!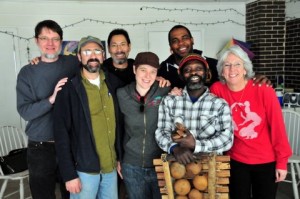 Collaborations
That's why part of her mission is to help organize and promote workshops by acclaimed artist-educators in the percussive arts.  Her emphasis is on the genres/modalities we ourselves study and on artists who are both great performers and great educators with big hearts, as well!  There's something so delightful about seeing her students discover her teachers.  And she is honored to be able to repay her teachers in some small way by helping them to share their knowledge and message with a broader audience.  She is particularly humbled to have co-ordinated the 2011 Grandmaster visit to Atlanta of Mamady Keita & Famoudou Konate.artist's agenda, she thinks it only makes sense that we should have access to the best in world-class rhythm education close to home.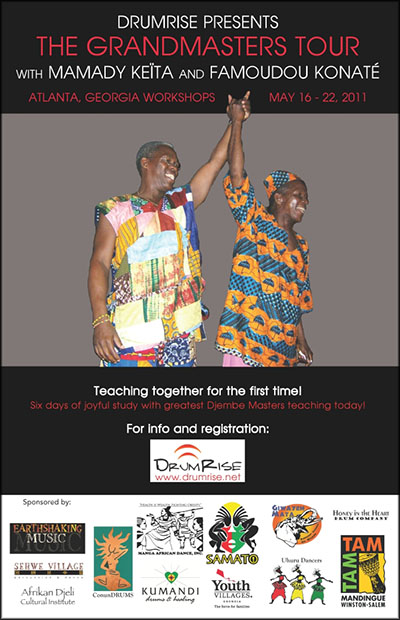 "It takes a village…" Perhaps that adage wasn't first intended to apply to drum and rhythm workshops, but it's applicable to a great many things in life worth doing. And building community is one of biggest purposes behind this work!
Over the years Rhythm Synergy, LLC has been varying parts captain and crew on a variety of team efforts to organize, host, and/or promote opportunities to study in Atlanta with some amazing teaching artists!  DrumRise's usual collaborators include: ConunDRUMS, Ten Blocks Away, Kumandi Drums & Healing, Sehwe Village Percussion, amongst others in the drumming & rhythm communities.
Together DrumRise has been part of events with:
Mamady Keïta (Spring, 2011)

Famoudou Konaté (Spring, 2011)

Madou Dembele, Mali/Ivory Coast – 33rd generation djembefola

Aly Camara, Guinea –Ballet Marveilles djembefola now living in Atlanta


Antoinette Kudoto, Ghana – djembe

Abou Sylla, Guinea – balafon

Lansana Camara, Guinea – balafon and kora

Marietou Cisse, Guinea – West African dance

Mama Yeye (Iyalosha Yeye Olori Oriyomi) – the Sekere Woman of Atlanta.

Mizero Children of Rwanda

Reinhard Flatischler, Austria – creator of TaKeTiNa

Cornelia Flatischler, Austria – TaKeTiNa

Grady Cousins (w Reinhard Flatischler) – TaKeTiNa

Elaine Fong (w Cornelia Flatischler, coming Fall, 2011) – TaKeTiNa

The First Southeast Women's Rhythm Retreat 2013 @ Hawk's Above

The Second Southeast Women's Rhythm Retreat 2015 Camp Greenville 2015