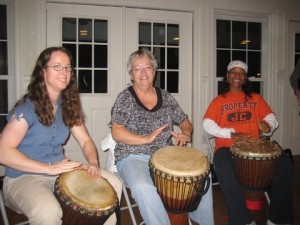 Learn to drum in a FUN, WELCOMING community!
Even if you've never touched an instrument before… even if you think you've got no rhythm, YOU CAN learn to drum. A drumming class is a great way to reduce stress, have fun, relax and re-energize all at the same time! Drumming in a group has even been shown to positively affect your immune system. Drumming is good for you and fun for the whole family.
Amy holds a Beginner Teaching Certification from Mamady Keita's International Tam Tam Mandingue Djembe Academy  (TTMDA), the world's leading entity in teaching traditional djembe and dunun rhythms, and a teaching certificate from Tam Tam Mandingue Winston-Salem, part of the international network of West African drumming schools founded by Guinean master drummer, Mamady Keita  What this means is Amy has studied with the best and her knowledge comes from an authentic source. It also means she's not just a good drummer – she is an excellent teacher! Amy uses a step-by-step pedagogy to teach good technique and help students develop a thorough understanding of rhythmic patterns and relationships. And she serves a dual mission of paying respect to her teacher and the centuries-old musical tradition of the Mandingue while helping YOU have fun, connect with your inner musician, and discover new friends!
What ages are classes for?
Amy's weekly classes are open to adults, teens 13+, and kids 10+ when accompanied by an adult. Drumming is a terrific activity for families to participate in together! And it's never too late to start. Private classes are also available for all ages.
Do I need a drum?
No. DrumRise provides loaner drums for you to use in class. We also have drums available for purchase if you want your very own.
Do I need experience?
Remember the jingle "I'd like to teach the world to sing (in perfect harmony?)" That's how Amy feels about drumming. DrumRise aims to create as many opportunities as possible for new people to discover a love of the djembe. So most of her classes are beginner-friendly! But she also likes to think you're most likely to fall in love with West African drumming if, instead of a "Twinkle Twinkle Little Star" class you experience being part of the joyful sound of a full musical ensemble. So unless otherwise specified, her classes are "all-levels"and she encourages her continuing students to further their skills by playing additional instruments (namely dunun – the melodic bass drums of the Mandingue drum ensemble) and developing their technique and solo-ing skills.
Do you have classes especially for intermediate and advanced students?
Yes – see sidebar for current classes.
When Can I Start?
Amy's classes are offered in series of usually 6, but sometimes 4 – 5 weeks in length.2-3 hour workshops are also offered from time to time. See the sidebar for her current schedule. New students are encouraged to try to join within the first few weeks of a series if possible, but if we're midway through a series, just give her a call first.
Do I Have to Take a Whole Series?
When you're learning to play a musical instrument, consistency is key. And each week's class builds on the previous week's material. Plus, once you've become part of the drumming community, your fellow drummers will miss you when you're not there. So it's best if you can attend regularly – and as an incentive, Amy offers the best pricing to those who commit to an entire series. But if you're just testing the waters, or if your schedule varies, you can drop-in for $25 per class.