Amy Jackson & DrumRise
Amy's passion for drumming began in Atlanta, Georgia during the 1960′s around the age of 10. She played on everything she could get her hands on which included her next door neighbors Ludwig drum set, furniture, world book encyclopedias, and yes, the dashboard.
In 2002, after years of playing on various percussive instruments, the djembe is the instrument that really spoke to her heart. She took her first djembe class as a way to do something fun with her 16 year old daughter and has been playing the djembe ever since.
In keeping with her 30 year career as a nurse, Amy became interested in the benefits of drumming as a tool for health and wellness. She began to study the music and eventually began her business, DrumRise. Since then she has shared her drumming and joy with thousands.

Her studies have centered on West African drumming because its purpose mirrors her own – to promote healing, tolerance, understanding,
equality and international peace. She has studied extensively with Mamady Keita, the initiated master drummer from the West African nation of Guinea. Mamady founded the Tam Tam Mandingue percussion schools with locations in Europe, the US, and Asia. Amy is an international TTMDA Djembe Instructor  (the first in the US) and a certified Associate Instructor with Tam Tam Mandingue Winston-Salem.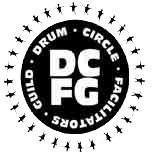 Because different types of groups have different needs, Amy has studied other approaches to drum circle facilitation with Kalani of Drum Circle Music™ and Arthur Hull of Village Music Circles™. She is a team member with Jana Broder's Drum Magic™ and has worked as a guest facilitator with John Scalici of GetRhythm™, Dave Holland of Beatin' Path™ and Scott Swimmers' drumSTRONG™.

Amy is a trained facilitator of HealthRHYTHMS™, a group rhythm program which has been shown in scientific studies to strengthen the immune system and reduce stress. Drumming has also been used in the treatment of depression, and anger management and has been shown to be a powerful mode of experiential therapy in working with troubled children and adolescents. Amy is a Certified Youth Villages Therapeutic Drumming Instructor , applying her skills as a drumming facilitator in behavioral health settings. Amy is also a certified as a Taketina rhythm teacher after a 3 year intensive TaKeTiNa teacher training with creator Reinhard Flatischler and co-developer Cornelia Flatischler. Amy is the musical director and lead soloist in the all women's percussion group,  ConunDrums.  ConunDrums performs for events and festivals around the Atlanta area.
Amy's study of the djembe is never ending and she wishes to thank the many teachers and dear friends who have helped her to grow as a person, a student, a musician, and as a teacher: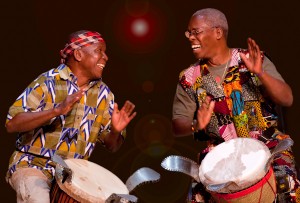 Mamady Keita - Initiated Djembe Grandmasters from Guinea, West Africa
Famoudou Konate - Initiated Djembe Grandmaster from Guinea, West Africa
Guinean Djembefolas Aly Camara & Fode Camara
Bill Scheidt – Tam Tam Mandingue Winston-Salem
and locally in Atlanta, her friends/teachers and more – Chuck Cogliandro and Colleen Caffrey
She also wishes to thank …
Mahiri Keita Edwards -Tam Tam Mandingue Washington, D. C.
Monette Marino-Keita & Ali Thomas -Tam Tam Mandingue  San Diego
Guinean Djembe instructor and dancer Mohamed DaCosta 
her teachers of the balafon,  Abou Sylla, Lansana Camara  and Jeremy  Tiani Tarr,
her teachers of West African percussive dance,  Marietou Cisse and  Fatim Minor
her teachers of African Dance,  Marietou Cisse,  Youssouf Koumbassa, Leah Roy, Kathleen  Moloney-Tarr
the Atlanta-based West African dancers – Uhuru Dancers and Giwayen Mata, and Christan Poret
Mali artist Madou Dembele and Ghana artist Weedie Braimah
And most of all, thank you to…
her family…who encouraged and supported her,
and her students…who motivate and inspire her every day!