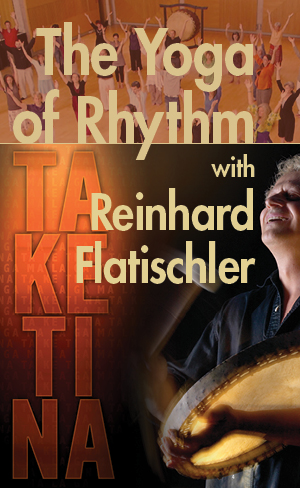 Friday October 18 – Sunday, October 20
TaKeTiNa is a practice that allows you to reconnect with the healing powers of rhythm and primordial motion. Like yoga, it is a pathway to something much bigger than musical or physical dexterity. It is a rhythmic route to integrating mind, body, and spirit for vibrant peace and wellbeing.
In the TaKeTiNa process you learn at your own pace, layering multiple rhythms in your body using steps, claps and voice. You learn to consciously let one hand be passive while actively moving the other. You can be simultaneously tensed for activity and deeply relaxed. TaKeTiNa gives you access to profound stillness in movement.
Read more from Reinhard Flatischler about why TaKeTiNa can be understood as The Yoga of Rhythm
Join Taketina founder Reinhard Flatischler as he weaves the "yoga of rhythm," and discover how your own innate rhythmic wisdom can guide you into joyful presence in the here and now.
Location: Decatur Recreation Center, 231 Sycamore Street, Decatur, GA 30030
Schedule: Friday: 10:30am – 6pm, Saturday: 10:30am – 6pm, Sunday: 10:30am – 4pm
Early Registration through Sept 15: $325
Late Registration after Sept 15: $395
Comments From Past Participants
I felt BALANCED at the end of the experience and that calming sense of inner peace stayed with me for days, weeks, and beyond.
"Three glorious days of being literally "out of my mind" and into experiencing so much FUN being with others, dancing with others and dancing with my own soul."
Thanks a million for a wonderful weekend. Just want you to know I woke up this morning full of peaceful vibrant energy. I've felt all day as though "all cylinders were charged" and working at full capacity. What a great way to get a 'tune up'