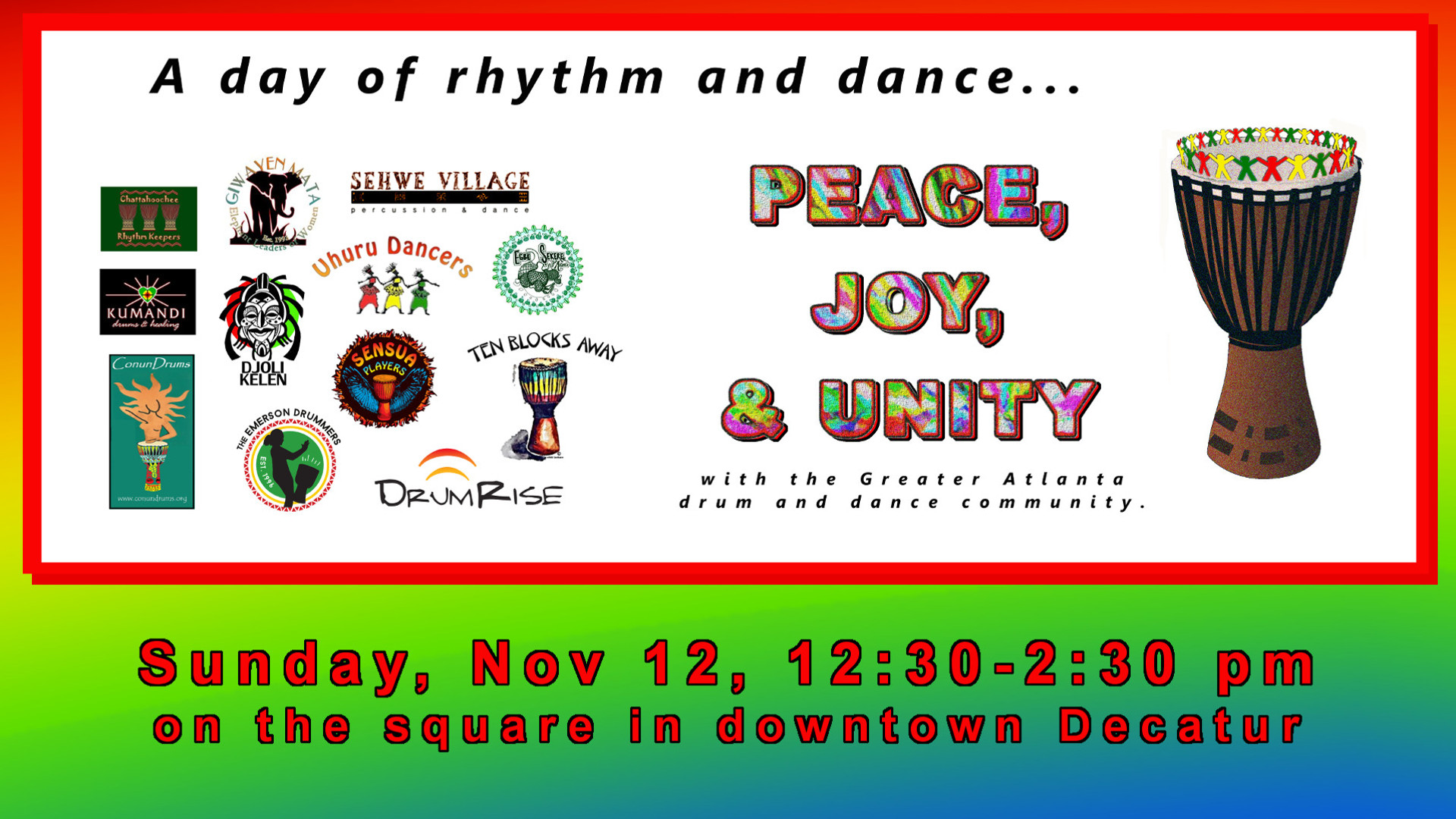 What a day THIS was!
Due to so much unrest, divisiveness, anger, sadness going on in our world, I wanted so much to do something. And how best to bring people together but through what the djembe symbolizes best- joy, peace, and unity. I called on my dear friends, Christan Poret and Chuck Cogliandro to get their feedback, support, and leadership and they were behind me 100%. So it began. Shirley Bayliss administrative Decatur rep was notified for rental of the space. Leaders from the 12 ensembles in Atlanta and surrounding areas were notified. Times and rhythms were given and each picked. It was smooth as silk as everyone choose a rhythm and time that was not duplicated. Kent Edmonds, banner and event designer was called upon and the vision was put on paper put on social media!
On November 12, 2017 it came to pass. A participate said, "it was a thing of beauty."
These Atlanta West African Dance and Drum Ensembles shared their joy. Leaders in their community came healers, teachers, musicians, performers, event planners!
Egbe Sekere- Iya Olori Oriyomi is best known and loved by all her students as Mama Yeye. Her credits includes AADDF 2012 Conference Sekere Workshop, Youth Theatre Project Camp production, "Once on this Island, "Master Sekere Workshop" with Iya Madeleine Yayodele Nelson, Afro Beat Lives and Spread Love's Felabration with the Cast of "Fela on Broadway" with Gorilla Dance Project , Sistahs 4 Assata Shakur and Nahande, Black Lillies Rites of Passage Program, Atlanta's Dance Africa with Chuck Davis, 100 Sekeres at Georgia State University Inter Cultural Social, Cobb Energy Center ,Whine Down Wednesdays and National Black Arts Festival at Olympic Park. "KIRIKOU" the Stage Play, Jazz on Tap Conferences, Alliance Theatre Youth Theatre Camps, 7 Stages Youth Creates, AWP Camp Destiny, A3 Sky Camp and Georgia Perimeter College African Cultural Workshops.
MaYe continues to fulfill her destiny one movement at a time, providing education with Dance, Sekere (sha-ka-ray) workshops and classes. She LOVES sharing African dance, movement, culture, music, and theatre while inspiring Youth to be triple threats on stage. Encouraging wholesomeness, discipline and self motivation to achieve any positive goals through the ARTS.
ConunDrums: Kassa
ConunDrums is a diverse community of women drawn together by chance, intention, fate, and the call of the drum of West Africa. Their high energy, interactive performances are centered on the centuries-old musical tradition of the Mandingue and the teachings of Mamady Keita, the Guinean Initiated master djembefola, and other master drummers. From their beginnings in 2001, the intent has always been to share and expand the community that the uplifting and joyful rhythms have brought them. Amy Jackson, TTMDA djembe instructor is their musical director.
Start time: 12:30pm
Giwayen Mata: Kuku
Under the musical direction, Omelika Kuumba, Giwayen Mata is the award-winning, dynamic, soul-stirring, all sistah dance, percussion, and vocal ensemble. . Since 1993 these "Elephant Leaders of Women" have been exciting audiences of all ages, ethnicities, and backgrounds with their energetic, educational, and highly interactive performances. It has been state, "To call this group a band is a severe understatement: they're more like an event." For an experience that you will long remember prepare yourselves to watch, hear, particpate with, and enjoy.
Starting: 12:45
Afrikan Djeli: N'Goron
Aiyetoro has been a musician since elementary school as well as a student of West Afrikan Percussion for over 12 years. He is a Dununfola in training. The Dununfola is the master of the Dunun orchestra- Dununba, Sangban, and Kenkeni. These drums, along with the Djembe, are native to the region which currectly includes the countries of Guinea, Mali, and the Ivory Coast. He is the founder and Executive Director of Afrikan Djeli Cultural Institute (ADCI). ADCI has as its main program, the 9th annual Atlanta African Dance and Drum Festival, which takes place the last weekend of July each. year. In addition, he is a member of Djeliba Drum Ensemble. He performs, teacher, and organizes drum classes. He also imports from Africa. He is a cum laude graduate of Morehouse College. He is a husband, father and community organizer.
Start time: 1:00pm
Sehwe Village Percussion: Sinte
Sehwe Village Percussion is a community that gathers to celebrate its love of West African rhythms and songs. Sehw ("happiness" in Susu language) also seeks to be an intentionally multi-ethnic group who hopes to foster diversity, inclusion and understanding through sharing the experience of West Africa's rich drumming tradition. Their musical director is master djembefola, Aly Camara.
Start time: 1:30pm
Emerson Drummers: Sofa
The Emerson Drummers have been under the musical direction of Chuck Cogliandro for 21 years. The group has always welcomed people of all backgrounds and levels of experience. The group includes Brother Yusef Crowder, Stone Montgomery, Mohamed Diaby, Aly Camara and many others in its teaching lineage, and honors the deep cultural roots of the people of West Africa, from whom the music comes.
Start time: 1:45 pm
Chattahoochee Rhythm Keepers: Djole
Building community through drumming, Chattahoochee Rhythm Keepers formed three and a half years ago in LaGrange under the instruction of Tom Harris with performances at Paint the Town Pink, the local Christmas parade, Chattahoochee River Keeper Festival and Juneteenth celebration.
Start time: 2:00pm
Ten Blocks Away: Yankadi-Makru
Ten Blocks Away, initially began as a practice group for those in Atlanta, Douglasville and Carrollton who were mesmerized by Malinke and Susu style drumming & dance desiring to practice beyond the beginner/intermediate level. The group soon began performing in Carrollton and Atlanta and has evolved to offer traditionally based West African drumming & dance performances and workshops while maintaining the original identity as a stable and consistent Djembe, Dunun, and dance practice group.
Start time: 2:15pm
Djoli Kelen: Sunun-Djansa
Djoli Kelen (Jo-lee Keh-leh) is an Atlanta based nonprofit organization. The company focuses on documenting, preserving, and highlighting the transformative power of African/ African Diaspora dance, music, and culture. In the bambra language, djoli kelen means one blood. The company embodies the notion of one blood in every sense of the word. Founders, Christan Poret, Kodi Allen, and Shannon Byrd-Crossley have joined their talents to create this cultural arts collective that openly, and lovingly shares African dance, culture, and the arts with the Atlanta community. Members of Djoli Kelen pride themselves with an energetic and an infectious joy every time they hit the dance floor. Djoli Kelen is a force to be reckoned with and will continue to keep the dreams and aspirations of their predecessors ALIVE!!!
Start Time: 2:30pm
Missed you Uhuru Dancers, Sensua Players, Aly Camara and Tom Harris
The text that accompained the event page went as follows:
JOIN US!
Desmond Tutu said, "Do your little bit of good where you are; its those little bits of good put together that overwhelm the world."
This day of drum and dance is intended to be one of those little bits of good. Come join us for a day of peace, joy, and unity. No matter who you are or what your skill level, we'll guarantee some high energy, uplifting, fun! As Mamady Keita says, "The djembe does not know color, gender, age, it only knows our hearts."
Bring your drum, bring your shaker, bring your heart as we play with members from the different West African drumming and dance ensembles in the greater Atlanta/Decatur area. Our intention is to put out good vibes to heal our world, county, state, ctiy, neighborhoods, and homes by coming together in peace. We also want to give thanks and honor to our teachers of the Mandingue whose music has inspired us to share the joy and passion with community.