Amy is an International TTMDA Djembe Instructor  (the first in the US) and a certified Associate Instructor with Tam Tam Mandingue Winston-Salem.
Classes for Individuals and Groups
Schools and Youth Programs
Special Needs and Therapeutic Programs

Custom Programs for Groups and Events
The emphasis here is less on becoming technically proficient musicians or learning a specific rhythm and more on the human outcomes that can arise from the experience of co-creating rhythm with a group of people. DrumRise's approach to creating a unique rhythm event for your group. Amy starts with your stated intention for your event and custom-designs a program that draws from several different schools of the absolute best in group rhythm work to help you achieve the educational, health, social, or organizational goals of your group! DrumRise also does pure performance/entertainment events. Applications include:
Drumming for Schools

One Day Drumming Class
Multi-Day Artist Residence
Weekly After School DRUM Class
School Assemblies/Interactive Performances
Family Night & Fundraising
Drumming for Community Events

Festivals
Fundraisers
Private Parties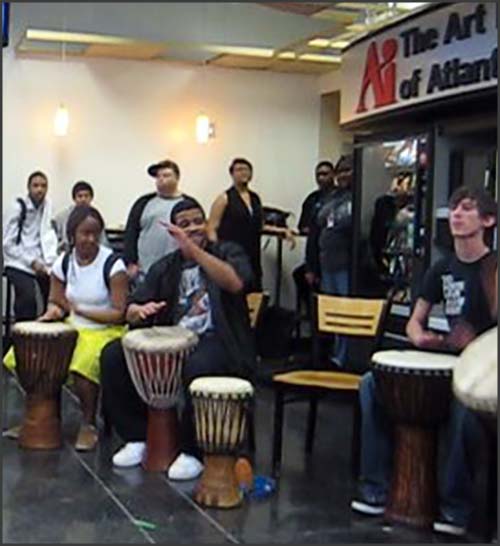 BLANK TEXT TO SPACE
DrumRise is committed to expanding opportunities for people in the Southeast to study West African music, drum circle facilitation, and related disciplines with the highest caliber professionals in their fields. We have a wealth of event management experience in the South and have helped to organize and promote numerous successful workshops with internationally touring artists and presenters.